These Adverts help to pay for this site. ai1
---
Balay Inato Pension, Puerto Princesa, Palawan
Balay Inato Pension
Manalo Street
Puerto Princesa
Palawan
Luzon
Contact
Tel: 048 433 8595
Mob: 0998 548 9443 (Smart)
Mob: 0917 590 1155 (Globe)
Web:
Booking: Check Prices and Book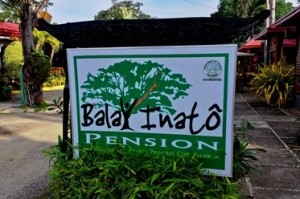 Information
Balay Inato has been impressing guests from all over the world since it was established in the 1980s. Based on reviews on the leading travel site TripAdvisor, Palawan's best pension houses list has consistently included Balay Inato. For years, TripAdvisor travelers have been raving about the inn's accessibility, budget-friendly rates, accommodating staff, relaxing ambiance, and spacious and clean rooms.
Balay Inato Pension is strategically located at 294 Manalo Extension. It is just a 2- to 5-minute drive from the Puerto Princesa International Airport so you don't have to worry about wasting time on airport transfers. (We also offer free shuttle services for your pickup and drop-off at the airport.)
Easily accessible, the inn is about 0.5 kilometers from the city proper. This means it is close enough to the local points of interest (iconic restaurants and other commercial establishments) but just far enough from the hustle and bustle (and noise!) of the city that our guests can enjoy a peaceful and relaxing atmosphere during their vacation.
The Standard Room comfortably sleeps two to three persons. A two-person stay is quoted at P1,200 per night. (As at 2014). Guests are entitled to a free breakfast.
At less than P2,500 per night, (As at 2014) you together with your family and friends can stay at our spacious family and double rooms. The rooms can comfortably sleep two to four persons (although our entire house can accommodate up to 40 people). They are air-conditioned and the interiors are pleasantly simple yet inviting and chic.
Each has its own backyard, a lanai that you can retreat to as you cap off your day. We also provide CCTV security, cable television, an intercom, a standby power generator and free Wi-Fi access. You can even request for laundry service or a spa massage. Plus, your daily breakfast is on us!
We take pride as well in having been named the cleanest and greenest establishment of all inns and restaurants in Puerto Princesa in March 2012. So you can expect rooms that are spic-and-span and cleaned daily. We even change your linens and towels and replenish your bathroom supplies every day.
1 : 147 : 3,377,236
---
These Adverts help to pay for this site. ai2
---
© 2020 ABCDiamond
Hosted at
DreamHost