These Adverts help to pay for this site. ai1
---
How to re-acquire Filipino citizenship
A Former natural-born Filipino is able to re-acquire their Philippine citizenship following the changes in Philippine law in 2003.
Until 2003 a Filipino who took on another countries Citizenship lost their Philippine citizenship, as the Philippines did not allow Dual Citizenship.
Republic Act No. 9225 or the Citizenship Retention and Re-acquisition Act of 2003 is a law passed on 29 August 2003 which grants natural-born Filipinos who have lost their Filipino citizenship through naturalization in a foreign country, the opportunity to retain or re-acquire their Filipino citizenship.  http://www.cfo.gov.ph
Since 2003, A natural born Filipino who becomes a naturalized citizen of another country is deemed NOT to have lost his/her citizenship, and enjoys the benefits of Dual Citizenship.
A Former natural-born Filipino, who lost their Filipino citizenship prior to 2003 must apply for citizenship again, and the information for this is shown at: 
The following is sourced from: http://www.cfo.gov.ph
Filipinos who re-acquire Filipino citizenship under this Act may once again enjoy full civil, economic and political rights under existing laws of the Philippines. Among these are:
right to own real property in the Philippines
right to engage in business or commerce as a Filipino
right to practice one's profession in accordance with law
right to acquire a Philippine passport
right to vote in Philippine elections under existing laws
other rights and privileges enjoyed by Filipino citizens
REPUBLIC ACT NO. 9225 August 29, 2003
This act shall be known as the "Citizenship Retention and Re-acquisition Act of 2003."
Section 3. Retention of Philippine Citizenship – Any provision of law to the contrary notwithstanding, natural-born citizenship by reason of their naturalization as citizens of a foreign country are hereby deemed to have re-acquired Philippine citizenship upon taking the following oath of allegiance to the Republic:
"I _____________________, solemnly swear (or affirm) that I will support and defend the Constitution of the Republic of the Philippines and obey the laws and legal orders promulgated by the duly constituted authorities of the Philippines; and I hereby declare that I recognize and accept the supreme authority of the Philippines and will maintain true faith and allegiance thereto; and that I imposed this obligation upon myself voluntarily without mental reservation or purpose of evasion."
Natural born citizens of the Philippines who, after the effectivity of this Act, become citizens of a foreign country shall retain their Philippine citizenship upon taking the aforesaid oath.
Former Philippine citizens who have been naturalized in another country and wish to retain or re-acquire their Philippine citizenship can check at www.immigration.gov.ph for details on this re-acquisition.
The cost at May 2015 was PHP 3,010 (Last changed March 2014)
A foreign national, whose father or mother was a Filipino citizen at the time of the applicant's birth, and who wishes to be acknowledged as a Filipino citizen can also apply for Filipino citizenship. Details at: www.immigration.gov.ph/…/recognition-as-filipino-citizen
The cost at May 2015 was PHP 12,550 (Last changed March 2014)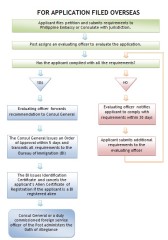 2 : 967 : 3,377,275
---
These Adverts help to pay for this site. ai2
---
© 2020 ABCDiamond
Hosted at
DreamHost