These Adverts help to pay for this site. ai1
---
Pre-departure Orientation Seminar (PDOS) or the Peer Counseling Seminar
CFO = Commission on Filipinos Overseas
The Guidance And Counselling Certificate of Attendance = Seminar Attendance Certificate needed for the CFO Certificate.
The CFO Certificate = The Stamp in the Passport, needed to leave Philippines as an Emigrant.
Why do you need a CFO clearance ?
Who needs the CFO Seminar Stamp?
An emigrating Filipino, or one who has been granted an immigrant-class visa, is required to register with the Commission on Filipinos Overseas before leaving the country to settle in a foreign land. They need to attend a seminar to help in understanding what their new life may be like.
Note: Emigrants attending the PDOS or Peer Counseling Session must be at the CFO office at least 1 hour before their schedule to complete the registration requirements.
Starting 30 January 2017, the Commission on Filipinos Overseas (CFO) will be strictly implementing the ONLINE RESERVATION AND REGISTRATION requirement for J1 visa holders or Exchange Visitor Program (EVP) participants attending the mandatory pre-departure orientation seminar.
Does a Tourist Visa holder need to attend the CFO Seminar?
No. Only those who are leaving the country to settle in a foreign land will need to attend this seminar.
The CFO website now shows this statement:
If you are fiancé (e)/ spouse/partner of a foreign national or a former Filipino and you hold a visitor/ tourist visa, you only need a guidance and counseling certificate from our office. Kindly present the CFO Guidance and Counseling Certificate (GCC) to the port of exit and show them your temporary/ visit visa and other requirements asked by your host country.
What is the CFO Seminar?
The Pre-departure Orientation Seminar (PDOS) or the Peer Counseling Seminar, is a brief, two-hour seminar on settlement issues and concerns such as finding employment, rights and obligations of immigrants as well as policies and procedures on how to secure foreign citizenship.
Exemptions from attending the PDOS include: Those who are 60 years old and above
One of the requirements for the CFO is to show proof of the relevant of Visa Grant. However, they seem to be not very strict on this, as I know of at least one person who went there with a Tourist Visa grant.  She got the CFO stamp but didn't actually need it.  Another, also on a Tourist Visa, went for the seminar, but was turned away saying it wasn't needed for her.
How long is the CFO stamp valid
The CFO Guidance and Counselling Certificate is a lifetime copy and has no validity dates. (see image below [click for larger picture])
However, if you change your partner, you do need to re-attend.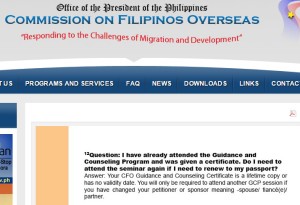 CFO – MANILA
Citigold Center, 1345 Pres. Quirino Ave.
corner Osmena Highway (South Superhighway)
Manila, Philippines 1007
Telephone: (+632) 552-4700
Email: info@cfo.gov.ph
CFO – CEBU
4th Floor, K&J Building
#4 Don Julio Llorente St.,
Capitol Site, Cebu City 6000
Telephone: (032) 255-5253
Email: cfocebu@cfo.gov.ph
CFO – CLARK EXTENSION DESK
One-Stop Processing Center in Clark (OSPC)
Clark Polytechnic Compound,
Jose Abad Santos Ave., Clark Freeport Zone
Telephone: (045) 499-8119
Email: info@cfo.gov.ph
CFO – DAVAO SATELLITE OFFICE
5th floor, AMQ Building, Lakandula St.
corner, Dacudao Ave., Agdao, Davao City
Telephone: (+6382) 228-2432
Email: info@cfo.gov.ph
6 : 4,356 : 3,346,414
---
These Adverts help to pay for this site. ai2
---
© 2020 ABCDiamond
Hosted at
DreamHost