These Adverts help to pay for this site. ai1
---
Juanitas Guesthouse
Teodoro Street (Risa Corner)
Sta. Maria Village 1
Balibago
Angeles City
Pampanga
Contact:
Tel: 045 892 3209
Tel: 045 624 1176
Mob: 0915 391 8365
Web: [cf]Web[/cf]
Booking and Price Checking: Hotels in Angeles City
Accommodation:
Located strategically within an atmosphere of endless excitement from the heart of one of Pampanga's greatest cities – Angeles. Spend an afternoon shopping at the nearby commercial complex. Relax or dine at the city's famous restaurants. Hear the upbeat tones of the late night clubs. Place yourself in the middle of it all, in Angeles City. JUANITA'S GUESTHOUSE boasts of its personalized service, clean rooms and affordable rates. With 32 well-appointed rooms, our hotel can surely make your stay memorable, stylish and comfortable.
Our hotel is a contemporary urban retreat in the heart of downtown Balibago, Angeles City and the most preferred destination for business travelers, groups, and vacationers. Discover a vibrant destination with innovative hospitality and warm personality that inspires you to work, play, relax, and connect in the City of Angels.
Juanitas Cafe
Juanitas cafe, renovated in September 2015, has re-opened and still serves a nice BLT (Bacon, Lettuce and Tomato Sandwich for 100 pesos, with some chips (French Fries), at 100 pesos. Amongst many other food options, Western and Filipino.
BLT and Fries for 100 pesos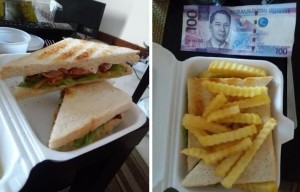 Location:
[mappress mapid="39″]
1 : 430 : 3,338,576
---
These Adverts help to pay for this site. ai2
---
© 2020 ABCDiamond
Hosted at
DreamHost