These Adverts help to pay for this site. ai1
---
Kandi Suites
257 Elvira Street,
Malabanias
Angeles City
Pampanga
Contact:
Tel: 0939 905 4898
Mob:  0947 890 8644
Web: http://kandirealty.com/stay-now
Booking and Price Checking: Hotels in Angeles City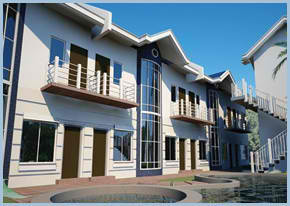 Information:
Kandi Suites represents modern world class living with trendy European Designer interiors. The objective was to create the most stylish apartments in Angeles- with all the amenities you would expect including 24 hour guards, maids, and laundry service.
Interiors make use of large windows and a gallery effect all the way up to the third floor, floating stairs add to the light spacious appeal. We boast a swimming pool and Jacuzzi, out doors lounge area with bar and undercover parking.Wifi Zone.
Waitress service for refreshments and snacks are available. We have a number of quality restaurants who have provided us with their menus, so you can order food 24 hours with no minimum order applying.
This all creates a friendly, relaxed and safe environment for you to live in. We are located 1 minute away from Fields just take the first left turn past Margareta Station, go past Tiger hotel and we are at the right hand bend. A combination of 3 bedroom and 1 bedroom units are available
Leases available from 3 months, from 18,000 php per month (June 2014).
1 : 1,022 : 3,342,719
---
These Adverts help to pay for this site. ai2
---
© 2020 ABCDiamond
Hosted at
DreamHost