The La Germania Oven Model: SL 120 10W is a small sized thermostat controlled, Gas oven with two top Gas Burners using an Automatic Piezo Ignition.
The Oven capacity is 49 liters,a nd ikt comes with an Oven Tray and a Porcelain Enamelled Body.
Dimensions:: 39.5cm x 42cm x 33cm
Color: White
Price: about 12,000 pesos (July 2013)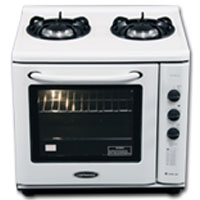 11 : 1,638 : 2,202,004
---
These Adverts help to pay for this site.
---
© 2020 ABCDiamond
Hosted at
DreamHost