These Adverts help to pay for this site. ai1
---
Manora Apartment
Sta. Theresa Vill 3 ext
Uldog Road
Cansojong
Talisay City
Cebu
Philippines 6045
Contact:
Tel: 032-268 0169
Mob: 0932 882 7672
Availability and Booking: www.booking.com
More Accommodation options in: Talisay City, Cebu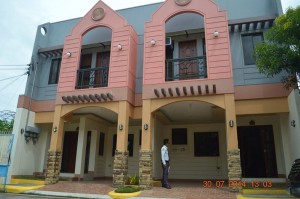 Information:
Located in Talisay, Manora Apartment features homely and peaceful accommodation with free WiFi access in the entire property. It provides complimentary parking on site.
There are six self catering 2 storey residential apartment units in the complex at Cansojong, Talisay City, Cebu , inside a quiet and guarded subdivision. Each unit has 3 Bedrooms and  2 Toilet/Bathrooms with 1 car garage.
Daily rates are offered with a self service breakfast included. Weekly and Monthly rates are also available.
The property is within 1 km from Gaisano Fiesta Mall and 3 km from Alta Vista Golf Course. Cebu Mactan International Airport is approximately 29 km away.
Featuring a terrace, air-conditioned apartments come with a wardrobe, a dining area and a living room with sofa and flat-screen TV. The kitchen is equipped with a stove, fridge, microwave and electric kettle. En suite bathrooms include shower facility, a spray bidet and free toiletries.
Fluently-conversed in Filipino and English, friendly staff at Manora Apartment can assist guests with laundry service, car rental and shuttle arrangements. Daily housekeeping service is provided.
Location:
From Cebu City or the Airport, take the Cebu South Coastal Road.
Go past the Gaisano Grand Mall SRP.
Keep going until you see the Phoenix Gas Station on the right, and just after that:
Turn right at the corner before the Flying V Gas Station.
Go straight for about 100 metres
The Village is at your left.
Distance from Cebu Airport is shown as 22 Km's
I've seen prices of 1,100 pesos for a taxi from Cebu Airport to Talisday City in Feb 2015.
A taxi rate calculator shows this: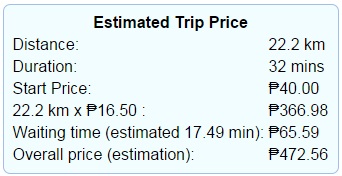 This works out at about half of some rates quoted, although is still higher that I had to actually pay.
Yellow taxis are found outside the airport arrival area.
These are metered airport taxis with rates approximately twice that of the regular white taxi.
The flag down rate for White taxis in Cebu is P40, which is equivalent to a 500-meter distance. An additional P3.50 gets added for every succeeding 300 meters.
The flag down rate in a yellow taxi is P70 with an additional P5 for every succeeding 300 meters.
January 17, 2015
http://www.philstar.com/cebu-news/2015/01/17/1413866/opposition-raised-petition-reduce-taxi-fare
Using those rates, the taxi fare for this trip should be 297 pesos, not the 472 shown in the image above.
Taxis in Cebu are metered. If the taxi driver is not using the meter or is asking for more, you can report their behavior, plate number and driver's name to Department of Tourism, Cebu, at this number: +63 32 2542811
1 : 458 : 3,338,601
---
These Adverts help to pay for this site. ai2
---
© 2020 ABCDiamond
Hosted at
DreamHost