These Adverts help to pay for this site. ai1
---
Typhoons, or the threat of them, is something of concern to many people considering a holiday in Puerto Galera, so… what is the real risk ?
The normal typhoon season is between July and October although the worst case was in a December.
1996 – December: The super typhoon Reming, internationally called Typhoon Durian, pounded Puerto Galera and damaged many of the boats at anchor in Muelle Port.  This was the country's worst typhoon since records have been written, but no deaths in Puerto Galera occurred although many livelyhoods were badly hit.  Over 300 houses were damaged, some with roofs completely blown off, and some of the better built resorts in Sabang and White Beach also needed some immediate repairs.
In the eastern part of the Philippines, mainly Legazpi City and the rest of Albay, including Mount Mayon, where the Typhoon first hit, the death toll exceeded 1,000.
In total, over 2,000 deaths in Asia were reported to have occurred from this Typhoon, but none in this area.
2006: Two two super-typhoons, May and December, damaged the shallow areas around Escarceo Point, one of the popular diving sites.
Other than the two cases above, the normal worst case scenario is that tourists would be forced to stay inside hotel rooms while the storm is on.
In 1574 the Spanish conquerors chose the natural harbour of Puerto Galera (Spanish for Harbour of Galleons) as it provides perfect protection from typhoons and storms. Through the centuries, the Spanish used Puerto Galera as a safe harbor for their galleons. Even today, Puerto Galera normally serves as a safe harbour when a typhoon comes through the central Philippines, except in 1996.
This satellite map from NASA shows the path of Typhoon Durian across the Philippines.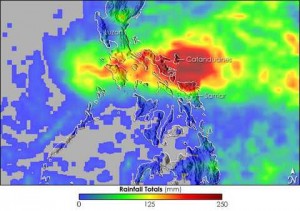 2 : 829 : 3,377,263
---
These Adverts help to pay for this site. ai2
---
© 2020 ABCDiamond
Hosted at
DreamHost