These Adverts help to pay for this site. ai1
---
Villa Kasbah Remo is located in Small Tabinay, Puerto Galera
A combination of Filipino tribal art objects, Moor ceramics design and a french touch contribute to the borderless feeling at kasbah Remo, yet the simple comfort and the convivial setting of the house are modest enough to let Nature dominate.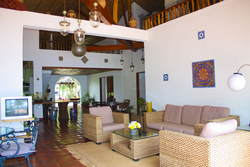 Villa Kasbah Remo
Small Tabinay
Puerto Galera
Oriental Mindoro
Philippines.
Property details:
At the site of Kasbah Remo the ocean and the mountain combine their respective breathtaking beauty to offer the visitors relaxing serenity within an unforgettable peaceful atmosphere.
Fully equipped and well attended by our qualified personnel the kitchen is an opportunity for undoubted culinary experiences .
Filipino and international cuisine will make your stay at Kasbah Remo a rewarding choice.
Photographs:
[tp_gallery]
---
More Hotels in Small Tabinay:

---
Map:
Accurate Map Location to Follow
Location
Villa Kasbah Remo
Small Tabinay
Puerto Galera
Oriental Mindoro
Philippines
Contact
Phone number for Villa Kasbah Remo, Puerto Galera, Philippines is: 0916 727 7740
1 : 89 : 3,338,644
---
These Adverts help to pay for this site. ai2
---
© 2020 ABCDiamond
Hosted at
DreamHost