The website puertogalera.gov.ph is, I would assume, supposed to be an official page of the Government in Puerto Galera, Mindoro, Philippines.
However, it seems to be out of action at the moment
I got this page when I just looked for information: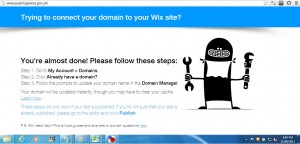 I will add more Puerto Galera Government information pages here when I get chance.
Puerto Galera Local Government Unit, Poblacion, Puerto Galera, Oriental Mindoro 5203
Telephone Numbers:
Municipal government Tel: (043)287-30-45
Rural Heal Unit Tel: (043) 287-3049
Tourism Office Tel:(043) 287-3051
PG Municipal Police Station Tel:(043) 287-3043
PG Municipal Police Service MPS Hotline No: 0916 121 6776, 0917 274 5335
Fax: (043) 442-01-82 / (043) 287-30-45
Police Service Numbers Link
Puerto Galera Immigration office
The Puerto Galera Immigration office is in a small room near the shopping area just above the main public market. The building also houses the Public Library and a Western Union Office.
On both sides of the Public Market there are concrete stairs, and you need to go up ONE floor, to the second floor. [The ground floor of buildings in the Philippines is called the first floor, so the Second Floor is the first one you get to when going up the stairs]
Go up the stairs on the Right [When facing the market], then turn right when you reach the next floor.
After facing right, you will see that straight ahead on the left is Western Union, and on the right is a shopping area, turn right and follow the line of dresses on sale. Halfway down on the right is a small door, this is the Immigration Office. http://www.abcdiamond.com/visa-extensions-in-puerto-galera-mindoro-philippines
National Statistics Office:  www.census.gov.ph/directory/lcr/oriental-mindoro-puerto-galera
Tourism Oriental Mindoro.gov.ph
Mayor:
Mayor Hubbert Christopher A. Dolor
2007 Election Results: www.comelec.gov.ph
Notes:
Domain Information regarding "puertogalera.gov.ph"
whois.domaintools.com
domain: puertogalera.gov.ph
status: taken
nameserver: ns1.wix.com
nameserver: ns2.wix.com
The following sites are registered and active. (June 2013)
PuertoGalera.com This page is parked with no active content at Sedo's Domain Parking
PuertoGalera.info page is parked with no active content at GoDaddy.com
PuertoGalera.net This one links to PuertoGalera.ph
PuertoGalera.ph This one is… I am not sure!
PuertoGalera.org This site features 34 Hotels/resorts in Puerto Galera (June 2013)
PuertoGalera.biz This page lists 20 Hotels/resorts in Puerto Galera (June 2013)
2 : 124 : 2,197,888
---
These Adverts help to pay for this site.
---
© 2020 ABCDiamond
Hosted at
DreamHost