These Adverts help to pay for this site. ai1
---
"Vm Beach Resort is located in White Beach, Puerto Galera
Enjoy the white sands of Puerto Galera at VM Beach Resort and let your family take a day-off! Tourists can take the tourist shuttle service from Murelle pier to the resort. The resort also provides shuttle services from the Murelle pier to VM Beach Resort.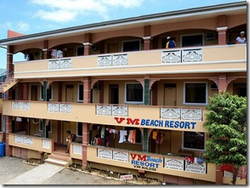 Vm Beach Resort
White Beach
Puerto Galera
Oriental Mindoro
Philippines.
Property details:
Standard Room:  One (1) big bed and one (1) small bed.
Our standard room is equipped with air conditioning, Television set with 24 hour Cable TV.
Toilet and bath.
Quadruple Room: Two (2) big beds equipped with air conditioning, Television set with 24 hour Cable TV, hot & cold shower.
Family Room: A room for the whole family.
Three (3) big beds equipped with air conditioning, Television set with 24 hour Cable TV, private bathroom with hot & cold shower
Photographs:
[tp_gallery]
---
More Hotels in White Beach:

---
Map:
Accurate Map Location to Follow
[mappress mapid='xxxxx']
Location
Vm Beach Resort
White Beach
Puerto Galera
Oriental Mindoro
Philippines
Contact
Phone number for Vm Beach Resort, Puerto Galera, Philippines is: 0917 523 4945″
1 : 207 : 3,342,025
---
These Adverts help to pay for this site. ai2
---
© 2020 ABCDiamond
Hosted at
DreamHost