These Adverts help to pay for this site. ai1
---
La Solana Suites And Resort is located in White Beach, Puerto Galera
La Solana Suites and Resort allows you to experience a superb panoramic views of the mountains and dazzling blue waters. The Resort also offers a warm and friendly welcome with its alluring orange color in typical surroundings of lush flora and freestones.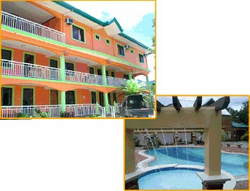 La Solana Suites And Resort
White Beach
Puerto Galera
Oriental Mindoro
Philippines.
Check Booking.com for reviews of this hotel
Property details:
For tourists wanting the best of a pristine environment, La Solana offers the perfect location. Recently structured and fully furnished (February 2007), this private Resort offers every comfort designed to guarantee a relaxing and pleasant stay.
Photographs:
[tp_gallery]
---
More Hotels in White Beach:

---
Map:
Accurate Map Location to Follow
Location
La Solana Suites And Resort
White Beach
Puerto Galera
Oriental Mindoro
Philippines
Contact
Phone number for La Solana Suites And Resort, Puerto Galera, Philippines is: 0917 562 0776
1 : 164 : 3,338,392
---
These Adverts help to pay for this site. ai2
---
© 2020 ABCDiamond
Hosted at
DreamHost