These Adverts help to pay for this site. ai1
---
Smart Bro Broadband SIM – Should it cost 50 php or is really 150 php ?
In Angeles City, Pampanga at least TWO shops are selling the Smart Bro Broadband SIM for 150 pesos (One Hundred and Fifty Peso) each, even though it has P50 marked on it. They both gave the same reason; that the p50 is the wholesale price, the price they pay!!
The SMART website quotes the price as:
Prepaid SmartBro Sim
One-time fee: P50 for the SIM
Usage fee: Pay per use. P5 for every 15 mins. or avail of any usage package (Flexitime, Always On Plans & Unlisurf)
Freebies: Preloaded with P20 airtime
http://www1.smart.com.ph/Bro/products/sim-only
What price is the SmartBro SIm card in other areas ?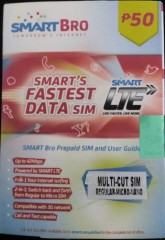 I went to SM Clark, and bought one there, for only P50 …
It seems that the phone card sales shop outside JJ Supermarket wanted to make an extra P100 profit from me. As did the shop opposite. Maybe they are under the same management ?
I will stick to buying from SM in future.
1 : 1,589 : 3,342,046
---
These Adverts help to pay for this site. ai2
---
© 2020 ABCDiamond
Hosted at
DreamHost