These Adverts help to pay for this site. ai1
---
Capt'n Gregg's Beach Resort is located in Sabang, Puerto Galera
Spend you week-ends or holidays down here and discover scuba diving in the Philippines with Captn Greggs. Waterfront dive shop, bar, restaurant and accommodation. Captn Greggs was established in 1983, and became the first dive shop on Sabang Beach and Puerto Galera, with uncompromised sea views.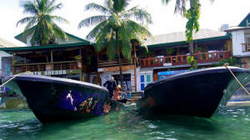 Capt'n Gregg's Beach Resort
Sabang
Puerto Galera
Oriental Mindoro
Philippines.
Property details:
Breakfast, Lunch & Dinner!! Voted the Best Restaurant on the Beach!!! Our Grill is on every Night! Some of the in-house specialties that new-timers should order at the restaurant are Sizzling Herb Chicken, Picadillo Tortilla Roll, and Smothered Pork Chop.
For vegetarians, this dining place serves Vegetable Kebabs with Satay Sauce, Italian Baked Vegetables, and Baked Potato with Snappy Cheddar Topping.
Hence, for breakfast, people should try the mouth watering English Breakfast, which include fried sausage, fried bacon, and fried bread.
Photographs:
[tp_gallery]
---
More Hotels in Sabang:

---
Map:
Accurate Map Location to Follow
Location
Capt'n Gregg's Beach Resort
Sabang
Puerto Galera
Oriental Mindoro
Philippines
Contact
Phone number for Capt'n Gregg's Beach Resort, Puerto Galera, Philippines is: 0917 540 4570
1 : 177 : 3,338,419
---
These Adverts help to pay for this site. ai2
---
© 2020 ABCDiamond
Hosted at
DreamHost